Written by Jake Wallwork

Punchbag blog reviews another entertaining weekend in boxing


Last weekend there were many talking points in boxing. The talking points were events that occurred outside the ring. After or before a fight. Some of the fights, which produced quality action, aren't talked about because of what happened outside of the ring. Well this weekend is different; there were some very entertaining fights which will be remembered for weeks to come.

Let's talk about them.

Boxing in Cardiff

This was the homecoming of Welsh born boxer Nathan Cleverly who hadn't boxed on home soil since 2007. Cleverly received a warm welcome as he successfully defended his WBO light heavyweight belt, winning all twelve rounds on all three of the judges' scorecards, against American Tommy Karpency.

This fight was nowhere near as entertaining as Cleverly's fight with Tony Bellew, the challenger Karpency is to blame for that. It seemed like he made a non-fight of the biggest opportunity of his career. Next we may see Cleverly fight on the Chad Dawson/Bernard Hopkins undercard.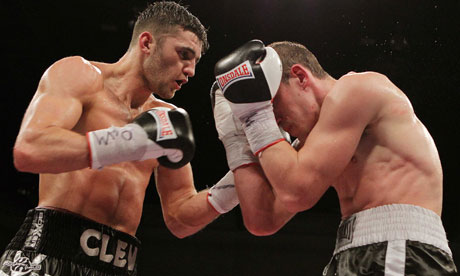 The undercard was pretty impressive; Enzo Maccarinelli had his second fight at light heavyweight. He fought Ciaran Healy in a contest scheduled for eight rounds. But when Enzo Maccarinelli is fighting, you know the fight isn't going the distance. He stopped Healy in the second round after landing several hard body shots. Enzo fights for the British cruiserweight title in a months' time against Shane McPhilbin.

We saw the return of Frankie Gavin whose personal problems outside the ring kept him from being active in the ring in the second half of 2011. Gavin's last fight in 2011 was against Curtis Woodhouse; he won a split decision and looked unimpressive in doing so.

However the inactivity didn't seem to do any harm on fight night. He looked very good in stopping Kevin McIntyre in the third round. Gavin may now get a shot at the British title.

One Smith brother (Paul) was commentating for Boxnation, another was fighting. Liam 'beefy' Smith went the distance in a one sided fight against Paul Morby. Smith had Morby hurt several times in the fight but couldn't get the stoppage victory.

Boxing in Aberdeen

Unbeaten Russian light welterweight Denis Shafikov won his third fight in a row by stoppage. His opponent Lee McAllister retired after the seventh round claiming a hand injury. This was Shafikovs first defense of his EBU title and a few more defences will lead him onto bigger and better things.

Boxing in Stuttgart

Heavyweight boxing is looking better and better as the weeks go by. A lot of people were talking about heavyweights for the wrong reasons last week, but this fight will be talked about for the right reasons. Alexander Povetkin fought Marco Huck in a twelve round slugfest which ended in a majority decision victory for WBA regular champion Povetkin.

Huck did a lot better than most expected and he had Povetkin hurt several times. Povetkin showed a lot of weaknesses in this fight, he was hit too easily by Huck's straight right hands and jabs. Huck isn't even known as a guy with a good jab. Povetkin showed a good chin, but I wouldn't put him anywhere near a ring with a Klitschko brother. I suggest he rehires Teddy Atlas as his trainer.

By making the fight so close Huck made a name for himself in the heavyweight division. Exciting times ahead for both fighters.

Boxing in Saint Louis

After some unimpressive performances Devon Alexander returned to his home town of Saint Louis looking for a big win and good performance. He did just that by winning basically every round to big puncher Marcos Maidana. By out boxing Maidana, Alexander put himself in pole position for a world title shot. A fight against the Malignaggi/Senchenko winner could be his next move.

Also on the card, Adrien Broner fought fellow unbeaten super featherweight Eloy Perez in a twelve round title fight for Broner's WBO super featherweight world title. Broner dominated from the get go and finished off nicely in the fourth round landing two big right hands which Perez couldn't recover from.

Even though he is the most arrogant boxer in the sport, Broner is a huge talent and should be involved in some big fights in his career.

Olympic heavyweight bronze medallist Deontay Wilder had his twenty first professional fight and scored his twenty first knockout in stopping journeyman Marlon Hayes in the third round of their bout. Wilder now needs to step up his level of competition and fight someone of note.

Overall a very good weekend of boxing. We saw some very impressive performances and the fight of the year so far. All winners and most losers who fought this weekend should be involved in some exciting fights down the line.

After a successful weekend in boxing I can't wait for the next one. Thanks for reading.