Written by Jake Wallwork.

Manuel Charr on Sturm promotions, Muhammed Ali and his year in boxing for 2011.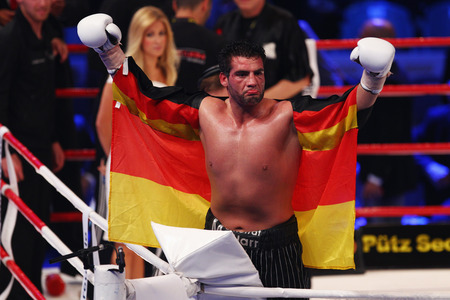 Manuel Charr is a German born heavyweight boxer with an Arab back ground. He made his professional debut back in May 2005 and has a total of twenty fights, with no losses and eleven knockout victories. He emerged as one of the top prospects in heavyweight boxing last year by beating and stopping both Danny Williams and Marcelo Luiz Nascimento.
After welcoming him to Punchbag blog I asked him about his step up in competition last year.
Hi Manuel thanks for taking time out of your schedule to talk to Punchbag blog.
Manuel - Thanks I´m pleased with your interest.
You stepped up your level of competition in 2011 with fights against Danny Williams and Marcelo Luiz Nascimento, is another step up in class something you plan on doing in 2012?
Manuel – 2011 was a great year for me with great victories, I do have great respect for the achievements of Williams and Nascimento! Both are great athletes and sure I wish more success for 2012.
When do you plan on fighting next?
Manuel – On the 30th of March 2012 I'm going to defend my title.
How has your first year boxing under Sturm promotions been?
Manuel – It was a nice and amazing time with Sturm, I have collected many great experiences, and he is a great Champ.
What do you say to the people who regard the likes of Tyson Fury and David Price as the top prospects in the Heavyweight division?
Manuel - I do not care what press and people think, whoever climbs into the ring with me will see who will be the better boxer!! And finally that`s me.
What was it like to meet the legendary Muhammad Ali?
Manuel – It was the best feeling to have met Muhammad Ali, a respectful person and above all, he still makes jokes.
Where did the nick name 'Diamond Boy' come from?
Manuel – The nickname comes from the Greek the meaning is invincible.
Do you want to leave a message for your supporters?
Manuel – I wish my supporters all the best and I´m looking forward to their support to celebrate the first German Arab World Heavyweight Champion.
Thanks for the interview, we hope you have a good boxing year in 2012.
Manuel - Thanks and I wish that you continuously remain true to the boxing sport, best wishes "Diamond boy."
Manuel is now scheduled to defend his WBC International Silver heavyweight title against Taras Bydenko who's most noticeable fights to date are; He took then unbeaten Nikolay Valuev (28-0 at the time) all twelve rounds in just his fourth professional fight and Bydenko lost by unanimous decision. In 2008 he beat Michael Sprott by unanimous decision, and in 2009 he has stoppage losses to heavyweight prospects Robert Helenius and Dennis Boystov.
In terms of level of opposition, Bydenko is along the same lines as Danny Williams and Marcelo Luiz Nascimento. But a win over Bydenko will be a decent name on the record for a young prospect like Manuel Charr. I think Manuel should take one or two more fights against this level of opposition, and he should step up his level of competition towards the end of 2012 and continue to learn his trade.
Keep an eye out for Manuel's fight with Taras Bydenko on March the 30th.
Thanks to Manuel Charr, Erol Ceylan and Tomas Schmidt.