Written by Jake Wallwork


Click for the Carl Froch v Lucian Bute press conference

The Cobra gets his homecoming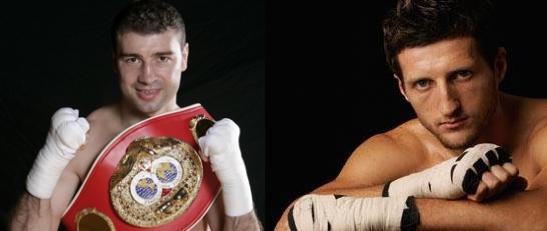 Yesterday it was announced that Carl Froch will fight Lucian Bute at the Capital FM Arena, in Nottingham. Bute's IBF super middleweight belt will be on the line for this fight. The fight will take place on the 26th of May. It has been rumoured that Pier Olivier Cote will be fighting on the under card.

Give both guys credit

I give both guys credit for making this fight happen, especially Carl Froch. Carl must have the record for the toughest run of fights a British fighter has ever had. His last seven opponents were; Jean Pascal, Jermain Taylor, Andre Dirrell, Mikkel Kessler, Arthur Abraham, Glen Johnson and Andre Ward (Carl has five wins and two defeats from his last seven fights). You can now add Lucian Bute to that list, and well done to Froch for always wanting to fight the best.


Credit to Bute as well. He got a lot of stick for having most of his fights in Canada and by taking the fight to the UK, he has silenced the critics and proved he is willing to travel anywhere for a fight. Not only that but he was having trouble getting a T.V deal over in America for this fight. HBO and Showtime both didn't want the fight, but Bute went ahead and signed for the fight in Froch's back yard.

Two world class boxers didn't let boxing politics get in the way of a world class fight. There are many other boxers out there who can learn from this.

Prediction

Being 34 (old for a boxer), having seven tough fights and a 10 year long career must have taken something out of Froch. I can't help but think he isn't as good now, as he was when he was beating Jean Pascal and Jermain Taylor.

That is part of the reason why I pick Lucian Bute to beat Carl Froch. The other reason is Froch's last fight, which was a loss to Andre Ward. Ward used speed and movement to outclass Froch. Bute has speed, movement and very good punching power.

The only reason why Ward couldn't knockout Froch is because he isn't a big puncher. Bute is a big puncher, and if he can hit Froch as much as Ward hit him, then he could be the first man to stop Carl Froch.

You have to give Froch a chance because Librado Andrade is similar to him and when Andrade fought Bute the first time, he had a lot of success late on in the fight. There's a chance Froch could grind Bute down and score a TKO win late in the fight.

However I pick Bute to win, with a big chance of the win being a knockout.

The winner

There's only one option for the winner of this bout. That's Andre Ward. I am British so I want Froch to pull off the victory, but a fight between Bute and Ward would be better for boxing. We have already seen Froch fight Ward and it was a good fight, but you wouldn't want to see it again because it was one-sided for Ward.

If Bute and Ward fought, it would be a fight between the two best super middleweights in the world, who are both unbeaten superstars. And if Bute deals with Froch better than Ward dealt with him, then the public would demand for the fight to be made.

So if the winner of this fight is going to fight Andre Ward, then I'd rather the winner be Lucian Bute. But if Froch wins, he could have a rematch with Mikkel Kessler, and that would be a good fight to watch.

To sum up, I congratulate Carl Froch for fighting world class fighters one after another, and I congratulate Bute for fighting outside of Canada. I think Bute wins the fight and likely stops Froch, but whatever the outcome, you can expect an entertaining fight, with the winner going on to have more super fights in the future. Thanks for reading.